It seems that Bertram's Hotel is based on Brown's Hotel which is where Agatha Christie used to stay when she was in London. Brown's Hotel is a hotel in London, established in 1837. While Brown's has been described as the inspiration hotel for Christie's At Bertram's Hotel, the Oxford Dictionary of National Biography says Christie's model was a different Mayfair hotel, Fleming's.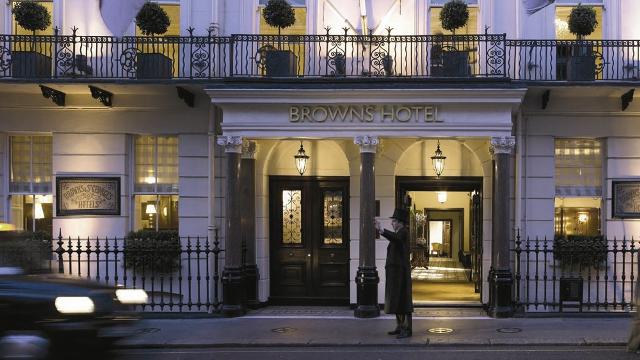 Flemings Mayfair is a boutique hotel located in Mayfair, London. Converted from Georgian townhouses dating back to 1731, it opened in 1851, making it one of London's oldest established hotels.
Some of the guests staying at the hotel had to visit their doctors in Harley Street. Harley Street is a street in Marylebone, central London, which has been noted since the 19th century for its large number of private specialists in medicine and surgery. It was named after Thomas Harley who was Lord Mayor of London in 1767.
Colonel Luscombe, Elvira's guardian, was staying in the hotel after having been at the races in Newbury. Newbury Racecourse is a racecourse and events venue in the civil parish of Greenham, adjoining the town of Newbury in Berkshire, England. It has courses for flat races and over jumps.
Miss Marple goes shopping at Robinson & Cleavers where she buys some linen sheets.
That day she also has lunch at Army & Navy Stores where she spots Bess Sedgwick with Ladislaus. Army & Navy Stores was a department store group in the United Kingdom, which originated as a co-operative society for military officers in the nineteenth century. The society became a limited company in the 1930s and purchased a number of independent stores during the 1950s and 1960s.
A car which was spotted during the robberies is a Morris Oxford. Morris Oxford is a series of motor car models produced by Morris of the United Kingdom, from the 1913 bullnose Oxford to the Farina Oxfords V and VI.
The train which was held up was the Irish Mail. The Chester and Holyhead Railway was incorporated out of a proposal to link Holyhead, the traditional port for the Irish Mail, with London by way of the existing Chester and Crewe Railway, and what is now the West Coast Main Line. Indeed, the carriage of the Irish Mail was always the primary objective of the founding Directors.
Bess married Micky Gorman in Ballygowan, and that is where Elvira goes to find out the truth. Ballygowan  is a village and townland in County Down, Northern Ireland.