Things were going well for Agatha Christie. In 1924 she used her own money to publish her poems under the name of "The Road of Dreams". Only one edition of the 112-page volume was ever published and this was undated.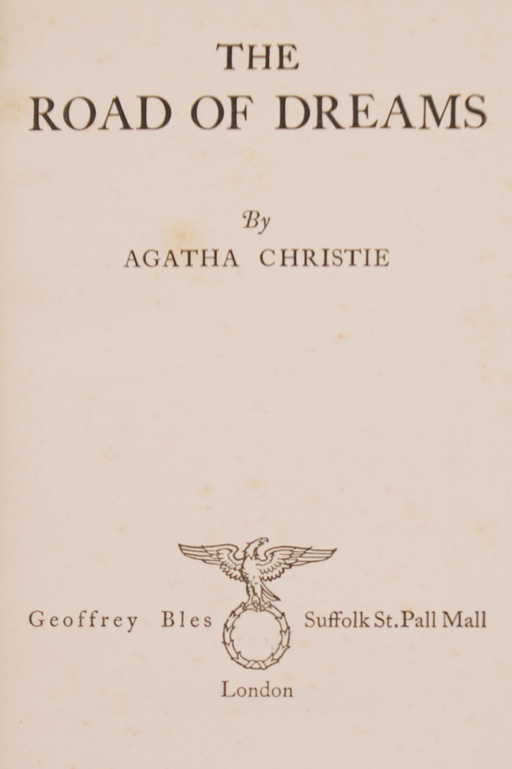 She also wrote stories for different magazines: The Sketch, the Grand, Flynn's Weekly, or the Royal.
Using the money from "The Man in the Brown Suit" she bought a grey Morris Cowley car. Morris Cowley was a name given to various cars produced by Morris from 1915 to 1958.
Agatha and her husband moved to Sunningdale because Archie had taken up golf. Sunningdale is a populous village with a retail area and a civil parish in the Royal Borough of Windsor and Maidenhead. It takes up the extreme south-east corner of Berkshire.
In 1926 she wrote "The Murder of Roger Ackroyd", which was a very original idea having the narrator as the killer. The idea came from her brother-in-law, James Watts and Lord Mountbatten.
Around that time they bought a second car, a Delage. Delage was a French luxury automobile and racecar company founded in 1905 by Louis Delage in Levallois-Perret near Paris; it was acquired by Delahaye in 1935 and ceased operation in 1953.
In Sunningdale they moved from their rented flat and bought a house they named "Styles".
In 1926 Agatha Christie's mother died, which left Agatha devastated. She spent a couple of months in her old family home, sorting out her mother's things. During that time Archie stayed in his club in London.
When Rosalind turned seven, Archie finally went to Torquay. Agatha's sister noticed he was acting strange. Later in the day he told Agatha that he had been hanging out with an acquaintance of theirs, Nancy Neele, and he was in love with her. So he wanted a divorce. Agatha begged him to give them another chance, and they even had a holiday abroad, but Archie was not happy.