The first part of the book takes place on Cypress Island where Eliza lives alone and isolated. Cypress Island is the westernmost part of Skagit County, Washington and is about halfway between the mainland and offshore San Juan County. The island has a land area of 22 km2, and a population of 40 persons as of the 2000 United States Census.
Orcas Island is where Eliza rowed to get her supplies. Orcas Island is the largest of the San Juan Islands, which are located in the northwestern corner of Washington state in San Juan County, Washington.
Eliza is an avid reader of Kate Chopin's books. Kate Chopin, born Katherine O'Flaherty (February 8, 1850 – August 22, 1904), was a U.S. author of short stories and novels based in Louisiana. She is now considered by some scholars  to have been a forerunner of American 20th-century feminist authors of Southern or Catholic background, such as Zelda Fitzgerald.
When we get to know Alphaeus Steiner, we learn some of his story. He was one of the many men building the Union Pacific Line.  The original company was incorporated on July 1, 1862, under an act of Congress entitled Pacific Railroad Act of 1862. The act was approved by President Abraham Lincoln, and it provided for the construction of railroads from the Missouri River to the Pacific as a war measure for the preservation of the Union. It was constructed westward from Council Bluffs, Iowa to meet the Central Pacific Railroad line, which was constructed eastward from San Francisco Bay. The line was constructed primarily by Irish labor who had learned their craft during the recent Civil War. The two lines were joined together at Promontory Summit, Utah, 85 km west of Ogden on May 10, 1869, hence creating the first transcontinental railroad in North America.
Eliza's past includes her growing up in Columbia, Missouri.  It is Missouri's fourth most-populous city.
She also stayed in St Charles, Missouri, when she got pregnant and had her son.
When Eliza decides to go to Alaska, she had heard about Klondike Fever in Steiner's store. People were going to Klondike, Alaska, for gold. The Klondike is a region of the Yukon territory in northwest Canada, east of the Alaskan border. It lies around the Klondike River, a small river that enters the Yukon River from the east at Dawson City. The Klondike is famed because of the Klondike Gold Rush, which started in 1897 and lasted until 1899. Gold has been mined continuously in that area except for a hiatus in the late 1960s and early 1970s.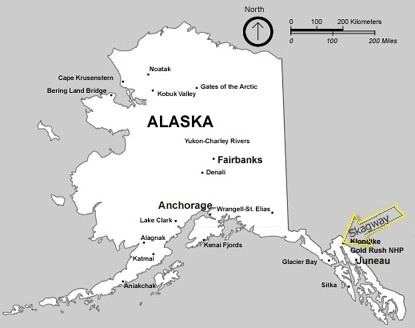 Eliza settles in Skagway. The Municipality and Borough of Skagway  is a first-class borough in Alaska on the Alaska Panhandle.  In 1896, gold was found in the Klondike region of Canada's Yukon Territory. On July 29, 1897, the steamer Queen docked at Moore's wharf with the first boat load of prospectors. More ships brought thousands of hopeful miners into the new town and prepared for the 500-mile journey to the gold fields in Canada. Moore was overrun by lot jumping prospectors and had his land stolen from him and sold to others. The population of the general area increased enormously and reached 30,000, composed largely of American prospectors. Some realized how difficult the trek ahead would be en route to the gold fields, and chose to stay behind to supply goods and services to miners. Within weeks, stores, saloons, and offices lined the muddy streets of Skagway. The population was estimated at 8,000 residents during the spring of 1898 with approximately 1,000 prospective miners passing through town each week. By June 1898, with a population between 8,000 and 10,000, Skagway was the largest city in Alaska. 
Between 1897 and 1898, Skagway was a lawless town. Fights, prostitutes and liquor were ever-present on Skagway's streets, and con man "Soapy" Smith, who had risen to considerable power, did little to stop it. Smith was a sophisticated swindler who liked to think of himself as a kind and generous benefactor to the needy. He was gracious to some, giving money to widows and halting lynchings, while simultaneously operating a ring of thieves who swindled prospectors with cards, dice, and the shell game. His telegraph office charged five dollars to send a message anywhere in the world. Consequently, unknowing prospectors sent news to their families back home without realizing there was no telegraph service to or from Skagway until 1901. Smith also controlled a comprehensive spy network, a private militia called the Skaguay Military Company, the town newspaper, the Deputy U.S. Marshal's office and an array of thieves and con-men who roamed about the town. Smith was shot and killed by Frank Reid and Jesse Murphy on July 8, 1898, in the famed Shootout on Juneau Wharf. Smith managed to return fire — some accounts claim the two men fired their weapons simultaneously — and Frank Reid died from his wounds twelve days later. 
Eliza mentions the White Pass. White Pass, also known as the Dead Horse Trail, is a mountain pass through the Boundary Ranges of the Coast Mountains on the border of the U.S. state of Alaska and the province of British Columbia, Canada. It leads from Skagway, Alaska, to the chain of lakes at the headwaters of the Yukon River, Crater Lake, Lake Lindeman, and Bennett Lake.
Eliza also mentions the Yukon railroad that is about to be built. In 1897, three separate companies were organized to build a rail link from Skagway to Fort Selkirk, Yukon, 523 km)away. Largely financed by British investors, a railroad was soon under construction. Construction started in May 1898.
Eliza believes in fighting for the women's vote, and she wanted to belong to the National American Woman Suffrage Association, and Pearly gave her a pin of the association for Christmas.The National American Woman Suffrage Association (NAWSA) was formed on February 18, 1890 to work for women's suffrage in the United States. Its membership, which was about seven thousand at the time it was formed, eventually increased to two million, making it the largest voluntary organisation in the nation. It played a pivotal role in the passing of the Nineteenth Amendment to the United States Constitution, which in 1920 guaranteed women's right to vote.
Pearly and Eliza talk about the female hysteria, and Eliza goes to the doctor for some treatment. Female hysteria was once a common medical diagnosis, reserved exclusively for women, that is no longer recognized by medical authorities as a medical disorder. Its diagnosis and treatment were routine for hundreds of years in Western Europe. Women considered to have had it exhibited a wide array of symptoms, including faintness, nervousness, sexual desire, insomnia, fluid retention, heaviness in the abdomen, shortness of breath, irritability, loss of appetite for food or sex, and a "tendency to cause trouble". Rachel Maines hypothesized that doctors from the classical era up until the early 20th century commonly treated hysteria by masturbating female patients to orgasm (termed "hysterical paroxysm"), and that the inconvenience of this may have driven the early development of and the market for the vibrator.
Another real character that Eliza interacts with is Harriet Pullen. After placing her kids in the care of friends in Seattle, Washington, Harriet Pullen traveled to Skagway seeking to settle in and make a living to support her four children. She arrived there with just $7.00 in her pockets. Captain William Moore, a founder of Skagway, hired her almost immediately to cook, at $3.00 a day, for his pier-building crew. A wily entrepreneur, she used her spare time to collect empty tin cans, which she beat into pie pans. Before long, she was making a good profit by selling apple pies to stampeders.
Eliza has her portrait made at E. A Hegg's. Eric A. Hegg (September 17, 1867 – December 13, 1947) was a Swedish-American photographer famous for his portrayals of the life and people in Skagway, Bennett and Dawson City during the Klondike Gold Rush 1897–1901.