In 1837 William IV dies and Victoria becomes queen.
Since she has been too protected by her mother and Lord Conroy, Victoria is quite ignorant of the ways of the world. Yet, Victoria is determined not to become a pawn at the hands of her mother and Conroy. She is determined and now that she is the queen, nothing stops her from doing what she believes is her right. She meets Lord Melbourne, the British Prime Minister, and even though Conroy tries to get him to his side to convince Victoria to make him her secretary, Melbourne is reluctant to be allured by the man. When he and Victoria meet, he realizes that the new queen is resolute and strong. He is the first person, apart from her governess, that Victoria feels she can trust. He helps her to compose her first speech for the Privy Council when she is proclaimed queen.
In the book we see that one of the people who support Victoria is her governess, Lehzen. Johanna Clara Louise Lehzen (3 October 1784 – 9 September 1870), better known as Baroness Louise Lehzen, was the governess, and later adviser and companion, to Queen Victoria of the United Kingdom. Lehzen encouraged the princess to become strong, informed, and independent from the Duchess and Conroy's influence, causing friction between the two and Lehzen.
As I mentioned in my comment on the novel, in this part William IV dies. William IV died in the early hours of the morning of 20 June 1837 at Windsor Castle, where he was buried.
In her diary Victoria wrote, "I was awoke at 6 o'clock by Mamma, who told me the Archbishop of Canterbury and Lord Conyngham were here and wished to see me. I got out of bed and went into my sitting-room (only in my dressing gown) and alone, and saw them. Lord Conyngham then acquainted me that my poor Uncle, the King, was no more, and had expired at 12 minutes past 2 this morning, and consequently that I am Queen." Official documents prepared on the first day of her reign described her as Alexandrina Victoria, but the first name was withdrawn at her own wish and not used again.
From Victoria we learn about the Kensington System, a series of rules imposed by her mother and Lord Conroy. The Kensington System was a strict and elaborate set of rules designed by Victoria, Duchess of Kent, along with her attendant, Sir John Conroy, concerning the upbringing of the Duchess's daughter, the future Queen Victoria. It is named after Kensington Palace in London, where Victoria resided with her mother prior to acceding the throne. Young Victoria was never allowed to be apart from either her mother, her tutor, or her governesses and the Duchess of Northumberland. She was kept isolated from other children; her mother and Conroy strictly monitored and recorded her every action and entirely controlled whom she was allowed to meet.Consequently, Victoria had only two playmates during her adolescence: her half sister, Princess Feodora of Leiningen, and Conroy's daughter. Only occasional trips were made outside of the palace grounds. The Kensington System was an utter failure and backfired spectacularly: Victoria grew to hate her mother, Conroy, and her mother's lady-in-waiting, Lady Flora Hastings, over the system. Her first two requests, upon her majority, were that she should be allowed an hour by herself (which the Kensington System had never permitted) and that her bed should be removed from her mother's room.
Through the Duchess of Kent, Victoria's mother, we learn about the queen's birth. The Duchess travelled from Germany to England when she was eight months pregnant because she wanted to make sure that her child was born in England and thus could have a chance to win the throne of England. The reason why the the Duke and Duchess of Kent moved to Germany after the marriage was because in Germany the cost of living would be cheaper. Soon after, the Duchess became pregnant, and the Duke and Duchess, determined to have their child born in England, raced back, arriving at Dover on 23 April 1819, and moved into Kensington Palace, where she soon gave birth to a daughter.
We also learn about Cumberland, Victoria's uncle, who was unhappy because Victoria had snatched his chance at the throne of England. Cumberland was King George III's son, but since he was the heir to the throne of Hanover, he couldn't be the king of England. Queen Victoria couldn't be the queen of Hanover because in that German state there was the salic law which banned women from the throne. Ernest Augustus (5 June 1771 – 18 November 1851) was King of Hanover from 20 June 1837 until his death. He was the fifth son and eighth child of George III, who eleven years before Ernest's birth had inherited the thrones of two kingdoms, Great Britain and Ireland, and also that of the Electorate of Hanover. As a fifth son, Ernest seemed unlikely to become a monarch, but none of his four elder brothers produced a legitimate son who lived past infancy. The Salic Law, which barred succession to women prevailed in Hanover; therefore, when his elder brother William IV died in 1837, Ernest succeeded him as King of Hanover. In the United Kingdom, however, where a different law of succession prevailed, Queen Victoria succeeded to the throne, thus ending the personal union between the British Isles and Hanover that had existed since 1714.
Another person that Victoria did not like was Lady Flora Hastings, her mother's lady-in-waiting. Lady Flora Elizabeth Rawdon-Hastings (11 February 1806 – 5 July 1839) was a British aristocrat and lady-in-waiting to Queen Victoria's mother, the Duchess of Kent. As the Duchess of Kent's lady-in-waiting, Hastings was party to Conroy's infamous Kensington System by which he colluded with the Duchess to keep Victoria isolated from her Hanoverian uncles. For these reasons, the young Victoria hated and suspected Hastings, and was open to any accusation that could be laid at the feet of Conroy or his aides.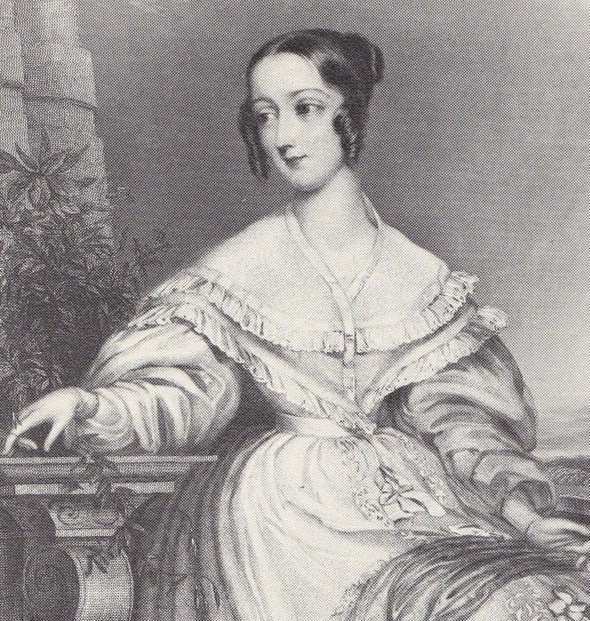 There are many reference to Dash, Victoria's dog. Dash (1830–1840) was a Cavalier King Charles spaniel owned by Queen Victoria.  He was Victoria's childhood companion.
The Prime Minister was Lord Melbourne. William Lamb, 2nd Viscount Melbourne (15 March 1779 – 24 November 1848), usually addressed as Lord Melbourne, was a British Whig statesman who served as Home Secretary (1830–1834) and Prime Minister (1834 and 1835–1841). He is best known for his intense and successful mentoring of Queen Victoria, at ages 18–21, in the ways of politics.
There is some scandal about the Prime Minister. His wife Lady Caroline ran away with Lord Byron, and apparently, after that Lord Melbourne had a string of lovers. Victoria's mother mentions Mrs Norton as one of his lovers.
Lamb first came to general notice for reasons he would rather have avoided: his wife had a public affair with Lord Byron. The resulting scandal was the talk of Britain in 1812. In 1816 Lady Caroline published a Gothic novel Glenarvon, which portrayed both the marriage and her affair with Byron in a lurid fashion, which caused William even greater embarrassment, while the spiteful caricatures of leading society figures made them several influential enemies. Eventually the two reconciled and, though they separated in 1825, her death in 1828 affected him considerably.
In 1836 Melbourne was once again involved in a sex scandal. This time he was the victim of attempted blackmail from the husband of a close friend, society beauty and author Caroline Norton. The husband demanded £1,400, and when he was turned down he accused Melbourne of having an affair with his wife. At this time such a scandal would be enough to derail a major politician, so it is a measure of the respect contemporaries had for his integrity that Melbourne's government did not fall. The king and the Duke of Wellington urged him to stay on as prime minister. After Norton failed in court, Melbourne was vindicated, but he did stop seeing Mrs Norton.
The last part I have read is Victoria going to the privy council and delivering her speech the day of her accession in 1837.